Buran Phillips is the pastor at Westminister Presbyterian Church in Knoxville, TN. I go there occasionally with my in-laws. I am a huge fan of his. I am posting one of his sermons here as an experiment to see if it is possible. If it works– which it appears to– I'll keep doing it.
Read the Full Post
The Hardest Job in the World is a book about the presidency as it is and not as we imagine it to be. I finished before Covid-19 hit, but one of its arguments is that the presidency is a job where the president must prepare for emergency shocks with high stakes long before they ever […]
Read the Full Post
Jim Lehrer has passed away. The longtime PBS newsman will be eulogized by those who knew him better, but my every interaction with him over the years left me better for it. I have thought more than once about Jim Lehrer: if you could have his talent and be that calm, decent and good a […]
Read the Full Post
The choir at St. Paul the Apostle in New York is a wonder. I always leave mass with one of their songs in my head. This week I recorded part of one because it so moved me. Here is a snippet:
Read the Full Post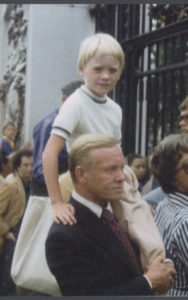 My eulogy for my father Claude Wyatt Dickerson buried today December 3, 2016: There is a picture of Dad from a family trip we took to London in 1976 that has been on my mind this week.  Dad is holding me on his shoulder so I can watch the changing of the guard at […]
Read the Full Post
There is a thing going around Twitter (Don't dare call it a meme), that your campaign slogan is your name, plus a colon, plus your last text. So mine is: "Dickerson: Oh Yes!" Jeff Haywood did the good work for me: Yard signs are available at local offices.
Read the Full Post
I have been thinking about organizational leadership. How do we measure leaders? Can we take apart action and measure its component parts? Here's an approach that came to me while I was running. (Tear it to shreds. Or praise it until your heart is an emptied vessel.) Time: How much actual time was spent on the […]
Read the Full Post
John Prine will be inducted into the Songwriters Hall of Fame tonight. Last night, his music publishing company Downtown held a tribute for him to benefit 826NYC with an all-star lineup including Norah Jones, Antibalas Horns, Sara Bareilles, Stephen Colbert, Natalie Merchant, Nathaniel Rateliff, and The War and Treaty.  This is what I said this after reading the lyrics […]
Read the Full Post
I searched Audible for my book about my mother. The other entries with similar tittles are a little unsettling:
Read the Full Post
Which means this piece on him is now eight years old. I think it still holds up.
Read the Full Post
Tyrion Lannister's ode to the power of stories might not have been aimed at a son's recollections of his eulogy for his mother but that's the mark it hit.
Read the Full Post
As you know, (from clicking on this link if nothing else) I'm moving to 60 Minutes. My final message to my colleagues at CBS This Morning in what we called our Reporter's Notebook: Thank you to Kira Kleveland and Claire Fahy and Wes Carlton and Craig Shea for putting this piece together. *The Mariner joke is […]
Read the Full Post
"John Dickerson, 50, who hopscotched from political director to "Face the Nation" moderator in 2015 to "CBS This Morning" as Rose's replacement in January 2018, will become a correspondent for "60 Minutes." The droll newsman indicated he was content with the move, mentioning a long-time admiration for the venerable news magazine." — AP The Droll […]
Read the Full Post
Hi! Thanks for checking in. I didn't really think people clicked on links in the Twitter profiles. I feel restored by your arrival here. Anyway, when I Re-Tweet something it means please click here to buy my book The Hardest Job. It's the product of years of work on the presidency, looking at what the […]
Read the Full Post
"Please use my words for your hot takes," said Jesus never. What if the inclination to use scripture to belittle, judge and ostracize people sparked us to look inside ourselves. "Why is your hot take on the speck of sawdust in your brother's eye and not about the plank in your own eye?" I have been […]
Read the Full Post
I love this kickstarter project (The most beautiful construction set in the world) because it combines cutting edge* technology to make something that feels old and solid and complex. What other things are in this category? I'll tell you what I've always wanted: as a fan of toy soldiers when I was a kid, and as […]
Read the Full Post
I interviewed Michael Lewis about his new podcast Against the Rules for the CBS This Morning podcast. A podcast about a podcast is a turduckencast, as no one calls it. Lewis is smart, funny and sharp enough to open your trickiest envelopes. What I enjoyed about talking to him– as I always do– is listening […]
Read the Full Post
Since working on the four part trilogy on the Constitutional convention I have been thinking a lot about the role of the president as actor. Those of you who committed to memory the podcast know what it meant in 1787, but what does it mean today? Emerson gives  us one hint. From his "Uses of […]
Read the Full Post