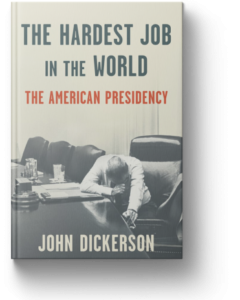 The Hardest Job in the World is now on sale and can be purchased from these purveyors:
Bookshop.org, Hudson Booksellers. IndieBound, Powell's, Target, Walmart.
June 10th: Slate Political Gabfest Live! 7:30 ET. Tune in here.
June 11th: Adaptation of The Hardest Job posted on The Atlantic
June 14: 9:00 a.m. CBS Sunday Morning essay on presidential priorities by a presidential life-hacker.
10:30 a.m. Face the Nation
June 15: 8:00 a.m. CBS This Morning
11:30 p.m. The Late Show with Stephen Colbert
June 16: 
Washington Post: The Test of Presidential Character is Restraint.
11:00 a.m. WNYC's Brian Lehrer Show
7:00 p.m. 6th & I with Susan Page
June 17: 7:40 a.m. Morning Joe
9:40 a.m. Cheddar
June 18: 12 p.m. WAMC—The Roundtable
12:45 p.m. Reddit AMA
7:00 p.m. 92Y with Nicole Wallace
June 19: 7:30 a.m. The Hugh Hewitt Show
June 21: 8:00 a.m. CSPAN
June 23: 8:00 p.m. Chicago Humanities Festival 
June 29: WGN Radio Chicago
July 9: OnPoint Radio
July 15: OneWay Ticket Podcast
July 17: Talks at Goldman Sachs
July 31: Washington Week
August 11: 8 p.m. Random House Big Ideas Night: The Political Landscape
August 13: 6 p.m. Kennedy Library Forum 
August 25: The Washington Post