We have a cover!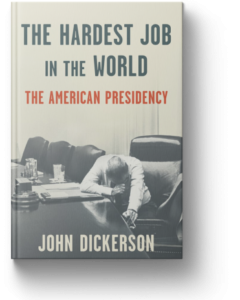 The Hardest Job in the World will join the bookstore shelves June 9. Just in time for Father's Day! Also suitable to give as a part of Breathing Humans Day when all good people are encouraged to give themselves and those they love a contemporary book.
In advance of all of this revelry, I've commissioned a friend and wonderful designer Happy Menocal to make a bookplate that I will sign for those who make an early purchase.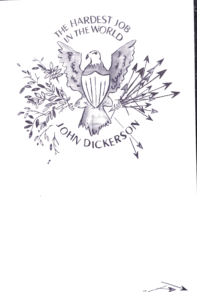 It is a wonderful piece of art.  If you are interested in a signed bookplate, please follow the instructions below and I will send one to you. You will enjoy it and a little peace will fall upon this earth.
Please take these steps:
Buy the

book

. Click here to purchase from your favorite on-line sellers!
Send me an email with some kind of proof. Send to: DickersonLatest@gmail.com
Include your address in the email so I know where to send the bookplate.
Let me know if a special inscription is preferred. I will try to accommodate requests.
Limber up for the walk to the post box where some time soon I will send you a signed

book

plate

for each purchased

book.
About that picture on the cover. The photograph was taken by Jack E. Kightlinger late on the evening of July 31, 1968. Lyndon Johnson is listening to a report on the progress of the Vietnam war. There is a tape player just out of the frame spinning two reels of thin brown tape. The president is listening to a report from his son-in-law Chuck Robb, a Marine fighting in Vietnam. Johnson had asked Robb to send back reports on what was really happening in the conflict. *
The reports were grim, but that wasn't all that was ruining LBJ's life at the time. Not many blocks from the White House, Washington D.C.'s poorest neighborhoods were convulsing. Racial tensions caused riots all over the country. In that same year, Robert Kennedy and Martin Luther King had been assassinated. Johnson must have felt like no matter how bad things seemed there was more woe to come. (All of this is recounted in a book that also uses that photograph for its cover by Kyle Longley. It's on LBJ and 1968).
*Robb, who had met Johnson's daughter Lynda while serving as a military aide at the White House would go on to serve as Governor of Virginia and Senator from the same state. I rode on the school bus with his daughter. That fact is not included in the book.